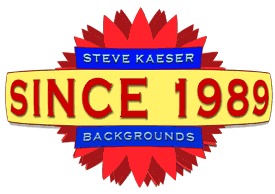 This is a brand new 9' x 12', Christmas Tree background. This photographic Christmas background is perfect for photographing children and families for their holiday portraits. Now you can create your own cards for the Holidays. Fun for the whole family.
We've used these at parties and at charity events over the years with great success. When we do our local charity events we set up our Christmas backdrop and a couple of lights. With an inexpensive photo printer (around $100-$150) we are able to print out the pictures we've taken there and then giving everyone a print that we've taped into an inexpensive holiday card. It's a lot of fun for everyone.
Made of 100% cotton muslin, hand painted with acrylic, non-toxic paints, this photographic background will provide you years of service and great memories.
Each muslin is hand crafted and may vary slightly from photo shown.